SEO: Search Engine Optimization
SEO can be game-changing for your business.
I have personally seen (and engineered) websites that went from 0 hits a day, into the thousands. Tens of thousands of new visitors every month.
And I've worked on sites that get multiple millions of organic visitors a year, and optimized some of the biggest brands on the planet.
SEO is one of the highest return-on-investment activities that most businesses can make.
Let me show you how it works. But first:
What is SEO?
Let's make sure we're on the same page.
SEO stands for Search Engine Optimization.
You, a user, have a question, or a need, or a desire, so what do you do? You search for it.
You put this search into something like Google, or YouTube, or Amazon, or Bing, or ChatGPT, or Baidu, or one of the countless other websites out there. When websites do this for you, they're "search engines."
If you're a business that sells, say, guitars, you really want to connect with any users out there who are searching "buy a guitar." That's your ideal customer right there!
The problem is, you're not the only guitar seller out there. You're one of thousands.
And when they're searching "buy a guitar," they're finding your competitors' websites—not yours.
What do we do? We optimize your website so that these search engines will be more likely to favor it over anyone else's.
That's really all it is. It sounds simple, but that optimization process is actually very, very involved.
That's why I'm here to help.
SEO corresponds with terms like "organic" and "natural" search or traffic. So, if we drive "organic clicks" to a website, that means we're increasing clicks from people who used search engines.
SEO is also not paid advertising.
The paid ads you see on search results are a completely different field of advertising, called PPC or "Pay Per Click." While they have an important place in advertising, they're not usually quite as effective in the long run as SEO, and they're much more expensive.
What Does SEO Consulting Help With?
My SEO services cover a lot of ground.
Best Practices
I stay on top of the latest trends and algorithm updates to ensure your website meets all of the best SEO practices.
And it's not only the cutting-edge updates that matter. It's also the long-term vision of search engines and the Internet.
A lot of SEOs are so busy focusing on every new little tweak from Google that they miss the forest for the trees.
Content Marketing
Nothing drives me crazier than when websites write content just for SEO.
You can always tell when something isn't really written for a customer, but is just "SEO copy" meant for a robot. That kind of tactic is simply not effective.
Content is not an afterthought—it's the whole reason your website exists.
Proper on-page content marketing, through experience, expertise, authority, and trust (E-E-A-T), takes more effort than stuffing all the empty spaces of your website with random keywords.
But it also has a benefit: it actually works.
Local Search Optimization
If you're trying to be found in a specific area, your website traffic numbers take on a different meaning.
You might care a lot less about a thousand people clicking on your site from around the world compared to a dozen people clicking on your site from down the street.
I have specialized strategies that can help you reach the exact people who you want walking in your store tomorrow.
And with hyperlocal search strategies, we can get down to the real street-level tactics.
Backlink Building
Backlinks are what Google is based on, and although they're not as important as they once were, they are still a gigantic factor that you simply cannot afford to ignore.
But the world of backlink building is infested with "black hat" hackers and scammers ready to charge you an arm and a leg for worthless spam links.
I can help you develop quality backlinks the right way instead, and help you tune up the rest of your off-site SEO in the process.
Technical SEO
Often considered the least-glamorous part of search engine optimization, technical SEO is still extremely necessary to get right.
It doesn't matter how good your content is, and how many backlinks you have, if your website is too broken and disorganized for users and for Google to make sense of it.
Beyond that basic level, there are ways to further enhance your website and present your business on a silver platter.
Keyword Research
Many businesses are missing out on keywords that people are searching every day, that could be bringing them right to that business's front door. Your competitors may be using them already.
I can help you find the keyword gaps in your website, and find gaps in competitors' websites that we can capitalize on further.
From vanity to long-tail, we'll pick the best keywords for your success.
These are some of the biggest primary areas of SEO, but there are plenty more. And I've got your back.
What Does SEO Consulting Involve?
As with anything, the first step is always research.
A full website audit, including technical, content, backlink authority, and usability metrics, is the first step.
This includes your website, but also your other web properties, like subdomains, microsites, and social media profiles, too.
Next comes competitive audits and other, more general marketing assessments.
Your SEO competitors may not be the same as your regular set—depending on your industry, you could be competing online with Amazon, Wikipedia, or even the US government!
I'll craft a list of action items that address critical issues first. Then I'll show you how to grow and thrive with new ideas to put you well ahead of your competition.
And don't worry—I'll make sure you clearly understand the rationale and the benefits of each task.
I'm here to help educate you as we put this plan in action.
Do You Guarantee SEO Results?
As I mentioned on my homepage, you should know that SEO does not come with a guarantee. That's because it's literally impossible to guarantee rankings in Google.
It's sort of like a ship builder guaranteeing a boat won't sink.
Yes, we can make the boat very good and very safe, and we can even make it the best boat, incredibly not likely to sink.
But despite all that, the ship builder still can't control the ocean. And the ocean is the only thing that will truly decide the fate of the ship.
It's the same with Google. We can make your website very good, the best—but Google is just as turbulent as any high sea, and it's not under the control of any consultant in the world.
If you do come across an SEO that guarantees things like rankings and traffic, you're probably being scammed. It's a guarantee they physically, literally cannot fulfill.
After all, we all know what happened to that "guaranteed unsinkable" ship Titanic, right?
Don't hire a too-good-to-be-true agency and wind up hitting an iceberg.
Instead, invest in respectable, long-term growth.
Let's see how our example businesses do it.
Real-World Example Businesses
I've made up four example businesses that represent most of the different types of companies that exist today.
I use these same four companies as my real-world examples across all of my Marketing Info Database and Service pages.
Following these same businesses across each page makes it easier for beginners to understand each topic. And for experts, it makes it more fun to follow along.
My four example businesses are:
Joe's Java Joint
B2C (Business to Consumer)
A local, non-franchise coffee shop trying to stay trendy.
Cassandra Forecasting Technologies
B2B (Business to Business)
A large company that sells future-predicting software to other companies.>
Fortified Federal Security
B2G (Business to Government)
A government contractor that provides physical security & defense solutions.
Hazel Harmony
Independent Influencer
An aspiring musician who plays the harp and makes art on social media.
Joe's, Cassandra Forecasting, Fortified Federal, and Hazel couldn't seem more different in terms of business needs and marketing challenges. But, on every Hulbert Marketing info page, we're going to watch how they each can grow and succeed using the topic at hand.
Let's take a look at how our friends at each company can broadly benefit from well-configured SEO.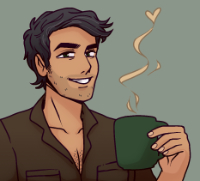 Joe's Java Joint: B2C SEO
It makes sense that a local coffee shop would find the most value in local SEO.
Joe's doesn't care if it's found online by people across the country, or even across the state. It needs to make sure that it's found by people in the city it operates in, especially the neighborhood and surrounding region.
For very small towns, there's only a baseline amount of local SEO needed. If you're one of three coffee shops in town, total, then we'll still do a little work to make sure you're showing up correctly, but it's an easier game to win.
For businesses in cities, though, local search can be a continuous, high-effort activity. Joe's is located in a city with dozens and dozens of coffee shops—there's another one across the street!
Joe's still needs the basics of local search, like Google Business, Yelp, NAP consistency, high-quality photos, menu integration, hours, update posts, and other third-party directories.
But Joe's will need to do more than just the basics if it wants to surpass the competition. Neighborhood pages and custom copy, local promotions, review integration, reputation management, and hyperlocal techniques will all come into play.
Joe's also needs to make sure their site is technically sound, easy on mobile, and more than just the bare bones homepage with nothing else.
It's simple—but it's not necessarily easy.
That's how a local B2C would start to use SEO. How about a non-localized B2B company?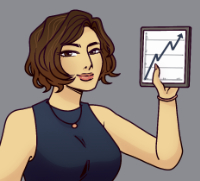 Cassandra Forecasting Technologies: B2B SEO
A B2B business has much different SEO needs. Cassandra Forecasting would not have to worry about local SEO at all.
Actually – that's a lie. We would do the tiniest amount to their corporate headquarters location, indicating that it's not a storefront, but making the listing look attractive and professional for when potential clients or business visitors drop by.
It wouldn't take long, but it is important.
What Cassandra Forecasting would really need, though, is a whole lot of keyword research and content marketing.
We need to begin by figuring out exactly what the various personas of Cassandra Forecasting's potential customer base are searching for. The search terms will certainly not be as easy as "buy a predictive analytics software tool"—if only it were that simple!
Customers usually search for problems, not solutions. We'll start with keywords more like "business forecasting," "forecasting analytics," "how to improve sales forecasting," and continue into more advanced options.
That's where content marketing comes into play. Writing great pieces of content around these topics, and organizing the content into sensible and semantic structures, is where Cassandra Forecasting gets to show its expertise.
Through unbiased, explanatory pages, Cassandra Forecasting will show off just how great it is to work with, and highlight real-life use cases of its tools.
Content marketing is also the healthiest and most reliable way to get more valuable backlinks over time, which will also help Cassandra Forecasting climb the rankings and get more traffic, naturally.
B2B purchases often involve a lot of research and convincing of different stakeholders at different corporate levels. So, providing content that addresses the needs of managers at every point in the funnel is vital.
Cassandra Forecasting will quickly find that a good SEO strategy can make or break a significant part of its business. This is a very small sample—the needs for SEO are practically endless, and so are the opportunities.
That's B2B. But what about a B2G company?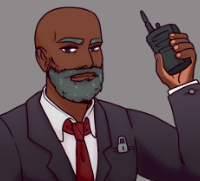 Fortified Federal Security: B2G SEO
Government-oriented businesses present more unique cases for SEO. However, it's still very relevant.
One of the most important factors when choosing a security solution is trust. If you don't trust the lock on your front door, you're going to replace it. You need to have the same rock-solid trust in a security contractor.
Not coincidentally, one of the main factors that Google looks for when ranking websites is trust. It's one of the four main components of their big acronym, E-E-A-T: Experience, Expertise, Authority, and Trust.
For Fortified Federal, building trust is the name of the game. And that starts with a comprehensive technical SEO audit.
Believe it or not, I've seen government security organization websites that don't even use HTTPS. They couldn't be bothered to even do the most basic level of security.
It's like hiring a security guard who drops his service pistol outside of his truck, and then locks his keys in his car when he goes to retrieve it. It would be comical if you saw it in a movie, but if you're depending on this guy for your security, you're gonna want to rethink some things.
But an SSL is table stakes. We could work with Fortified Federal to build in a secure connection, stress that privacy and security were baked in on a fundamental level, and show off how technically competent the website is as a whole.
Site speed is an important technical factor too, but honestly, Fortified Federal can get away with being just slightly slower if it does so in a way that emphasizes how secure the connection is. Still, though, they don't want to be glacial.
Content marketing is important for Fortified Federal too, but in a much more technical way—we need to research and rank for specific long-tail government terms here, and then appeal to people well-versed in these regulations.
And some aspects of local search may apply to Fortified Federal depending on their location and market. Are we strictly D.C.-based? Are we securing facilities elsewhere? Demonstrating a thorough knowledge of the local area could reinforce the authority of their security forces.
Technical aspects dominate for Fortified Federal. But what should an influencer do with SEO?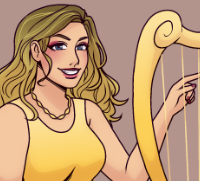 Hazel Harmony: Influencer SEO
Our social media harpist can benefit quite a bit from search engine optimization.
First, you should remember that social media platforms function as search engines in various ways. So even though "social media optimization" also includes these things, it's sort of an in-between area.
When you're searching for interests or hashtags or topics on Instagram, TikTok, Pinterest, etc., you're using the website as a search engine. So Hazel better make sure she shows up!
Hazel's use of hashtags is important, but social media is a lot more than just hashtags. Her post content, alt attributes, and even her own behavior and activity on all these apps matters a great deal.
Her website is also very important. Many influencers neglect their websites, but they shouldn't!
If Hazel has made any informative social media posts like "here are the 5 best accessories I use for recording my harp music," then she needs to turn that post into a page, too. And it's easy—just put the video on top and transcribe it below, adding a few extra details, formatting, and links.
Now that post won't just succeed on social media, but on Google and beyond. And when people find Hazel on her website from Google, they'll be attracted to her social media, and she'll gain even more followers this way too.
Hazel can also use SEO keyword research to find more ideas for future social media posts. It all circles back around.
Influencers can have global reach, and a website helps with that. But local SEO plays a part in many ways too. Hazel might do workshops or artistic meetups to connect with her local fans. As a musician, she may also do concerts, or even a tour to multiple locations. Having good search presence for these events is vital for attendance and ticket sales.
And as Hazel grows, SEO can help build credibility and opportunities for monetization, like sponsored content, affiliate marketing, and merchandise. Driving organic traffic to her merch page could become a major source of revenue in her future.
SEO may be slower and less "sexy" or exciting compared to social media posts, but it's a foundational strategy that influencers should not ignore.
SEO for YOUR Business
The world of SEO is pretty big.
But the benefits of doing SEO right are even bigger.
Don't keep your business floundering on page 8 of Google search results. You're never going to get found there.
Let me show you how to rank your website higher.
Let's get started.