Business Marketing Consulting
Let's talk about business consulting.
Whether you're in charge of a corporation with a thousand employees, or you just started your own company as a headcount of 1, running a business is an exciting journey.
But sometimes, it feels like you're trying to navigate through a maze while blindfolded.
Let me show you the path home.
Let's talk about business consulting, and business marketing, for beginners. Because even if you've been through this before, it's always good to start out on the same foundation.
What is a Business Consultant?
A business consultant is like a guide who's seen your situation before and knows about various ways to help you succeed.
You might be thinking, "Why would I need a consultant? I know my business better than anyone—that's why I'm doing it!"
You're the expert on your product or service, but a consultant is an expert on business and marketing in general.
A consultant brings a fresh perspective and will identify things you might miss. They'll show you new ways of looking at your problems and your opportunities, and help you plan strategies to get ahead better and faster than you would've otherwise.
Here's an analogy. Imagine you're an excellent cook who's just started a restaurant. You're the expert on food here. A business consultant isn't going to tell you how to make your recipes, because you're the one who's cooked a thousand dishes.
But you haven't opened a thousand restaurants, or even put together a hundred business strategies. A good consultant has the experience in that area instead.
A consultant has been there, seen it before, and knows how to make it work for you, too.
This way, you can keep focusing on your excellent products or services, instead of trying to do everything in-house by yourself.
Business Consulting or Business Marketing?
Business consulting can refer to just about everything about your business: your processes, your values, your products, your distribution, and your marketing.
Business marketing consulting, on the other hand, may seem like it only covers that last one. And don't be fooled, that's still a huge scope: it includes your advertising, your PR and brand perception, your organic reach, your social presence, and more.
Although I focus on the marketing aspect here at Hulbert Marketing, don't get the idea that the rest of your business will just be ignored.
Everything ties together, especially in today's world where customers can access more information about your company and your competition than ever before.
Marketing will supercharge a great company. On the other hand, marketing may boost a subpar company for a while, but the results won't be nearly as dramatic—and they definitely won't last.
Viewing marketing as something that you can do "at the end," rather than making it a core part of your business, is a massive misstep.
So, when I speak of business marketing consulting, please understand that it ties into every aspect of your operations.
What Does Business Consulting Look Like?
It all starts with a deep dive into your most interesting subject: YOU.
I perform the market research necessary to learn about every aspect of your business and your brand.
You'll hear about things with fancy names like brand audits, identity assessments, messaging analyses, touchpoint consistency, and many, many more. These are different types of tests and studies that I perform on your company to view it through different lenses, from all different angles, to figure out what's working—and what's not.
Your competitors are also important to analyze. We can learn plenty from their successes and their failures.
I see companies all the time that try to emulate the biggest players in their spaces, not realizing that they're emulating the good parts and the bad parts alike.
This includes competitors you might not even know you have—I'm talking about direct, indirect, future, phantom, and more.
There are a variety of classic tests and market research approaches that you may have heard of, such as your marketing mix (the "4 Ps of marketing," plus a few more), your SWOT (strengths, weaknesses, opportunities, and threats, as well as the two-letter combo strategies you can use to grow, your environmental analysis (often abbreviated PESTEL, and it's more important than ever), and more.
I also pay close attention to your people. You, your staff, your customers, your target audience, your personas, etc. Are you reaching the right segments of people? Are you speaking to them in ways that resonate?
These new perspectives on your business can help you grow in ways that you never thought possible.
You know why writers need editors, right? It's because when we work on something so close, for so long, we lose the outside perspective on it.
Yes, you become an expert—but when you're selling to non-experts, you may lose your frame of reference on what other people know about your product, or why they would care about your services. They don't have the same passion as you for it.
If I had a dollar for every time I've seen companies promote product features instead of customer benefits, I wouldn't need to consult anymore. (I'd be too busy enjoying my private island.)
New perspectives, and new ways of putting data together, can spark new ideas that never would have come otherwise.
At the heart of every successful business, there's a well-structured and well-executed business strategy.
You're probably not going to get lucky and stumble into one perfectly-formed by accident.
Let's find the right strategies for you—together.
What Can a Consultant Help Me Achieve?
Why might you consider turning to a business marketing consultant for help? Here are some potential end results and benefits.
Improved Operational Efficiency: A business consultant can identify inefficiencies in a company's operations. This might be an overly-long product development process that bottlenecks the whole schedule, or a poorly-organized supply chain that leaves you high and dry. A consultant can help by introducing new processes, policies, and technologies to streamline its operations, potentially reducing costs, or speeding up time-to-market.
Market Expansion: A company may be yearning to expand into new markets, but unsure of how to proceed. Perhaps a local retail store wants to break into new product markets, or a restaurant wants to start offering weeknight cooking classes. Maybe a book publisher wants to leverage its archives for the ebook market. A business consultant can conduct market research, analyze the competitive landscape, and develop a winning market entry strategy.
Future Vision: A business consultant may assist a company to develop a strategic plan for the future. Strategic planning comes in many forms, but common examples include defining long-term goals and creating roadmaps to achieve them, identifying weaknesses and threats and plotting out ways to mitigate them, determining which KPIs you should monitor, recommending strategies to capitalize on market trends, and more.
Guided Change: If your company is going through something big—say, a merger, an acquisition, a reorganization, a new market entry, a new website, etc.—sometimes it helps to have someone else guide you through the process. These things are always bumpy, but you don't have to let the bumps derail you entirely. New management strategies, improving communication styles, and helping stakeholders adapt are all ways to make everyone a little more comfortable.
Risk Management: All companies face risks, and some are more grave than others. Cybersecurity threats, regulatory issues, supply chain disruptions… the list goes on. A business consultant can help you identify your biggest vulnerabilities and help you patch them up before they break down, as well as develop ongoing risk mitigation strategies and monitoring processes.
Organizational Development: A business consultant may work with a company to enhance its organizational structure and overall culture. This usually involves conducting employee assessments and interviews, designing systems to manage performance, and building up leadership development programs. It's important to make sure the right people are in the right places, and getting the right support to be motivated and successful.
Sales and Marketing Success: Naturally, increasing the effectiveness of your marketing tactics and channels is almost always at the forefront of any consultation. Customer acquisition and retention is important for every business, from a local coffee shop to the biggest conglomerate. Market research, targeted campaigns, and even new training are a few of many ways a marketing consultant can help.
Where Does Business Consulting Come From?
Bear with me for a moment. I want to take you on a journey into what consulting really is.
Consulting, as a career practice, traces its roots back to the late 19th century. As businesses grew in size and complexity, the need for expert advice and guidance became apparent.
It's like how I mentioned above. People were realizing that although they were experts on their products or services, they weren't experts in business strategy or marketing and advertising.
Over the years, companies have turned away from factory and product focused operations, and moved to focusing on the value to the customer.
This has been better for just about everyone in the end, but it's also made some parts a lot more challenging.
The evolution of business consulting has, like all things, also been shaped by the rise of the digital age. The Internet era has revolutionized marketing, and traditional methods like TV, radio, and print ads have seen massive shifts to social media, SEO, and email instead.
At its core, business marketing consulting is about using information in new ways, to navigate past your unique challenges into the deep blue ocean of success. It's my job to help you ride the waves.
Marketing Methods
Companies can capitalize on more marketing channels than you might expect! All it takes is a little creativity.
Here are some common, and uncommon, types of marketing:
Content Marketing
Social Media Marketing
Search Engine Optimization (SEO)
Email Marketing
Influencer Marketing
Affiliate Marketing
Billboard Advertising
Television Commercials
Radio Advertising
OOH (Out-of-Home) Advertising
Magazine Ads
Newspaper Ads
Direct Mail & Catalogs
Other Print Media
Podcasts
Sponsorships
Augmented Reality (AR)
Virtual Reality (VR)
Not every method will be right for your goals. But it's worth noting that you can come up with new ideas even just from considering them.
Real-World Example Businesses
I've made up four example businesses that represent most of the different types of companies that exist today.
I use these same four companies as my real-world examples across all of my Marketing Info Database and Service pages.
Following these same businesses across each page makes it easier for beginners to understand each topic. And for experts, it makes it more fun to follow along.
My four example businesses are:
Joe's Java Joint
B2C (Business to Consumer)
A local, non-franchise coffee shop trying to stay trendy.
Cassandra Forecasting Technologies
B2B (Business to Business)
A large company that sells future-predicting software to other companies.>
Fortified Federal Security
B2G (Business to Government)
A government contractor that provides physical security & defense solutions.
Hazel Harmony
Independent Influencer
An aspiring musician who plays the harp and makes art on social media.
Joe's, Cassandra Forecasting, Fortified Federal, and Hazel couldn't seem more different in terms of business needs and marketing challenges. But, on every Hulbert Marketing info page, we're going to watch how they each can grow and succeed using the topic at hand.
So how can our friends at each company benefit from business consulting? That's a very broad question, but here are the basics!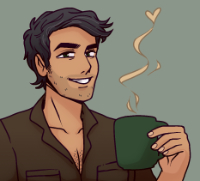 Joe's Java Joint: B2C Business Consulting
For a local coffee shop like Joe's, business consulting has the potential to completely turn a place around.
With a small business, like a lot of B2Cs (business to customers), you can make changes quickly and easily and immediately see results.
The first step of any engagement is market research, so as a business consultant, I'd be digging into Joe's business as well as its competitors. I'd look at things like:
Current coffee consumption trends
Popular flavors and blends
Customer preferences over time and seasonality
Nearby coffee shops
Nearby food locations
Nearby partial competitors, like fast food restaurants and remote work areas
Everything possible about what goes on at Joe's
After breaking down the business processes, I might have some things to say about expanding the loyalty program, or perhaps an expanded menu to steal more guests from the juice bar down the street.
Maybe there's even room for an online ordering system, or a coffee-of-the-month delivery subscription.
A few of my audits may show that Joe's is known for high-quality coffee and friendly service, but suffers from a total lack of marketing, a clunky and out-of-date website, and long lines during busy hours.
You can't fix a problem until you know it exists.
If more competitors are cropping up, Joe's may benefit from a booth at a local festival to stay relevant and top-of-mind.
And if economic conditions continue, Joe's may also benefit from adding new ways to accommodate more remote workers, with various programs designed to keep them as valuable customers, not just single-item-purchasers who take up space for hours.
Joe's could end up with a new logo, new flavors, new prices, new ads, and who knows what else. But across all channels, Joe's would benefit from a consistent and high-quality brand image.
What about our B2B (business to business) example?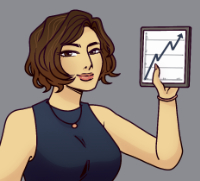 Cassandra Forecasting Technologies: B2B Business Consulting
A B2B business like Cassandra Forecasting can benefit just as much from a good business consultant, if not even more.
The first step is, as always, market research: a thorough understanding of the landscape of the forecasting analytics industry, including customer behavior, competition, and Cassandra Forecasting itself.
As an analytics & forecasting company, I'm sure a lot of my data wouldn't be new to Cassandra Forecasting—but my interpretations and recommendations would be.
A close look at Cassandra Forecasting's business models may reveal that their pricing model isn't competitive, or at least, they're not communicating their value well enough to justify it.
This doesn't necessarily mean cutting prices—it instead means showing more value, and increasing perceived value and prestige. In the long run, prices might even end up being raised as a result of this.
More assessments would find more opportunities for improvement, and thus more ways for Cassandra Forecasting to grow. Suppose I find they're known for their accuracy and reliability, as any prediction software company should be, except their customer service and login portals don't reflect that.
To an executive at Cassandra Forecasting this might seem fine, since the tech is what's important, right? But when a customer uses the login portal every day before getting to that tech, and then gets annoyed at the slow customer service, those emotions get associated with their tools instead.
Fixing that login portal suddenly just became a lot more important, didn't it?
Even that B2B example is simpler than our next sample company, a B2G (business to government) contractor.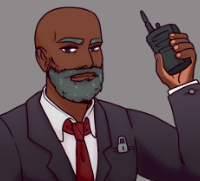 Fortified Federal Security: B2G Business Consulting
A B2G company like Fortified Federal faces unique challenges unlike any other entry in our set of examples.
Despite that, however, our first step remains the same: market research.
No matter how different the needs of any companies are, even if the specific tactics and activities change, the overall process framework will always begin with research, research, research.
You don't want a consultant to give you a one-size-fits-all solution, the exact same solution that they've given to their last ten clients. That's too formulaic. But don't let a consultant tell you that they don't have any processes at all, because that's just chaos.
Individual recipes may differ, but most of them follow the same pattern—gather ingredients, mix, cook.
I'll research the government security solutions landscape, including Fortified Federal itself, their competitors, and especially the complex regulatory environment they operate in.
It's natural that Fortified Federal would keep very close to all these laws and regulations themselves, but in the process, they may have missed broader industry or marketing trends.
In the process, they've totally neglected their own marketing situational awareness, and are now unsecured, vulnerable to competitive attack.
Fortified Federal may have a great reputation and a highly effective set of processes that they're well known for. However, they may have a huge blind spot—cybersecurity.
This might mean they should invest in or acquire a new cybersecurity division, or at least partner with an IT company in the field. They could leverage their own brand name and power to make this a win-win, and with their reputation, they'd be a strong entrant immediately.
These types of companies are also notoriously bad at social media (with only a couple notable exceptions). While a B2G doesn't necessarily need to have a huge social strategy, there are definitely ways they can increase their clout overall that can translate to more prestige, and thus more sales at higher price points.
Social may not be the main concern for a Fortified Federal, but what about a small influencer business who lives and dies based on social media?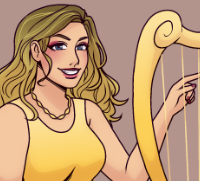 Hazel Harmony: Influencer Business Consulting
In the case of Hazel Harmony, our aspiring harpist influencer, business consulting services can be incredibly useful.
Hazel is different than any example above. She couldn't care less about predictive analysis software or government contracts. Yet, a lot of her basic needs are the same.
You can guess by now what happens first: market research. Hazel might have a good idea of other influencers she's inspired by, but understanding her broader competitive landscape would let her firm up ways she's different from the rest.
Competitors in the influencer realm are different than normal business competitors due to the nature of collaborations, so even though she's "competing" with them in a sense, it's not the same as a rival coffee shop opening up across the block from Joe's Java Joint.
Hazel's "competitors" might turn out to be some of her biggest opportunities—and even new friends.
As a lone influencer without a solid business background, Hazel would also like help understanding her different revenue stream options. Single-person operations are not usually too familiar with affiliate marketing, advertising revenue, sponsored content, platforming products, merchandise production and design testing, etc.
Together, we can figure out what works best for Hazel's needs, while keeping her fans and followers front and center. The point is to delight them with these options, not make it seem like a cash-grab.
I can also look at which of Hazel's posts and which parts of her web content get the most likes, shares, and other engagement, and graph out what contributes to this success.
If Hazel picks up painting as a side hobby, but these posts start getting more engagement than her harp posts, I wouldn't suggest she change her whole focus—instead, we need to examine what it is about those painting posts that attracts this audience, and apply it to her primary content too.
It's also likely that Hazel doesn't have clear business goals. She probably wants to grow, but what does that mean—which numbers specifically, by how much, by when?
The Time is Now
It's time to think about your goals.
How much do you want to grow?
You've seen how I can help these four example businesses.
I've helped hundreds of other businesses just like these and beyond. And I can do the same for you.
Let me show you how.